GDPR says you must obtain freely given, specific, informed, and unambiguous consent from your contacts. You also must clearly explain how you plan to use their personal data. We've updated our registration forms to help you stay compliant. Our forms now include additional checkboxes for opt-in consent, and editable sections that explain how and why you are using data.
You will need to configure these and update the wording based upon your own policies.  This article explains how to do this in the following sections:
Configure your registration forms
Customise your consent scripts
Customise your public consent page
Customise your email templates
Request consent from existing clients
Configure your registration forms
By default the following consent tickboxes will be enabled on your system and displayed in a new 'Marketing Consent' section on the add / edit contact pages:

There are a total of 11 consent tickboxes that you can enable should you require them.  For each of these you can enable / disable it and update the name of the label that appears on the form.  The 11 break down as follows:  consent to send property details via email, sms, phone or post; consent to send other marketing via email, sms, phone or post; consent to pass their details onto named third parties; and finally, two additional customisable fields which can be enabled to cover anything else you may require.
To do this go to Admin > Settings > GDPR Consent Settings
It is up to you to review what marketing emails or materials you send to contacts by which means and whether you pass their details to third parties and update your system configuration accordingly.  
Customise your verbal consent scripts
Under Admin > Settings > GDPR Consent Settings in the 'Verbal Consent Script' section, there are four textboxes which allow you to define a script for people to read out should you need to take consent verbally when registering someone on the system either in person or over the phone.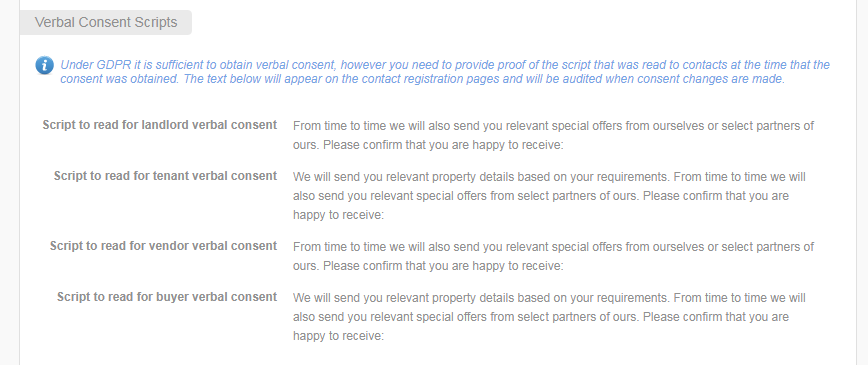 Again, these scripts need to be updated based on your policies to be specific to your requirements.  They should explain why you want the data and what you will do with it, explicitly naming any third parties that you will pass it on to.
This script is then displayed above the consent fields on the system: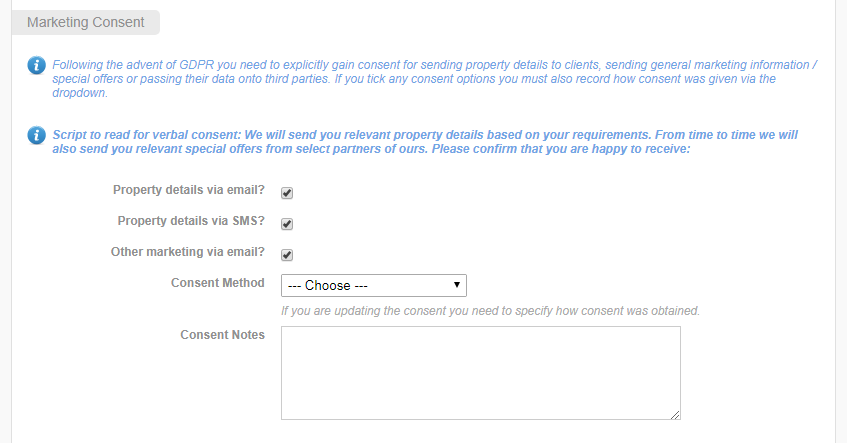 Whenever any of the consent tickboxes are changed, you need to record how consent was given in the accompanying dropdown.  We then audit any changes to this, recording who consented, when, how, and what they were told by saving a copy of the script (along with any optional notes you enter).  You can view this audit history by clicking the 'View History' button next to the 'Consent Last Updated' timestamp on the Vendor / Buyer / Landlord / Tenant details page:

Customise your public consent page
Your clients can now also manage their contact preferences directly via a public manage preferences page.  Links to this page are automatically included in any marketing emails sent from the system, or on bulk emails sent from the main contact index pages. 
The opt in checkboxes displayed on this page are those that you configured in your system above.  However, again, there is text which needs to be customised to explain why you want them to opt in and what you will do with the data.  
This can be customised via the Admin > Settings > GDPR Consent Settings page in the 'Public Manage Consent Text' section.  The 'Property Marketing Consent Intro Text' is displayed above the (upto) four property marketing consent tickboxes which display for applicants; the 'Other Marketing Consent Intro Text' displays above the other tickboxes if any of these are enabled:
and is displayed accordingly on the public page: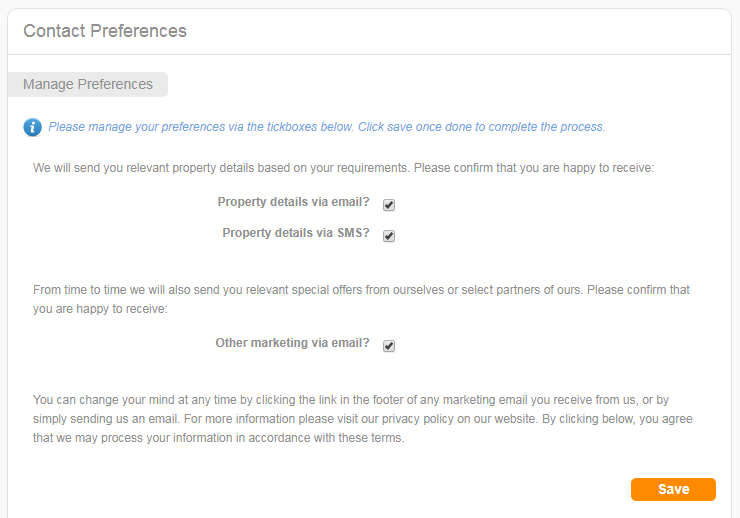 Customise your email templates
There are two new email templates which you can use to either request that new clients register their own preferences ('Please Confirm Your Marketing Preferences') or to send to confirm the preferences that you have set ('Thank You For Registering'), both of which include a link to the public consent page.  You can find these under the Letters & Emails > Standard Correspondence section for vendors, buyers, landlords and tenants:

There are shortcuts to these on the new registrations alert and next to the View History link on the contact details page in the 'Marketing Consent' section.
Again, you can customise these templates to ensure that they are relevant to yourselves.
There are also new bulk email templates which will allow you to request existing contacts update their settings.
Request Consent From Existing Clients
The changes above help new clients that register with you do so in a GDPR compliant manner, however you may also wish to send bulk emails out to a subset of your existing client base asking them to reconfirm via the new public forms.
To help with this we have added new bulk email templates.  Again, you will need to customise the text in these templates to explain how you will use their data.  You can find under Templates > Letters & Emails > To Landlord (or Tenant / Vendor / Buyer) > Landlords List Page Templates > Landlord GDPR Bulk Email.
You can then send the emails via the 'Bulk Email' link on the contact index pages.  Clicking on this now brings up a pop up, prompting you to choose which template you want to send and also to confirm whether you want to include contacts who have not explicitly consented to receive other marketing emails:

By default, leaving this unticked will filter the selected list to only include those that have opted in to receive 'Other marketing via email?'.  You can manually override this by ticking the tickbox should you have another valid reason to send the email (for example if you are sending a bulk email related to a property and have already filtered the list for those that have provided consent for 'Property details via email?', or if you have a valid legal basis to send the email other than consent).
To send the GDPR bulk email you will need to select the GDPR email template that yhou have updated and then tick the tickbox to include contacts without explicit consent as by definition, they will not have provided consent yet.
Finally we have also added new 'Marketing Consent' filters on to the contact index pages to help you identify contacts based on their consent: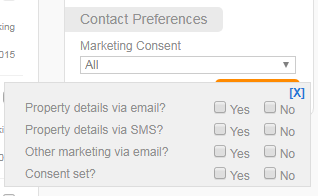 The 'Consent set?' option allows you to identify only those who have not already provided consent and can be used along with other useful filter fields such as 'Status', 'Date Registered', 'Has a property search?', search 'Valid Until' to send the bulk email to relevant clients.  For example, this help article explains how to filter your applicant list for those that are currently set to receive automated emails when you put new properties on the market.
As part of these changes, we have automatically copied across any of the 'Subscribe to emails?' or 'Subscribe to SMS?' settings that were previously on the property searches to the new 'Property details via email?' and 'Property details via SMS?' fields respectively so the current status of existing clients is exactly the same as it was.  You can still differentiate between these and contacts who have updated their consent by the 'Consent set?' field as that will not be set until you or they update it through the new forms.
We have also updated the export into excel to include all of your configured consent options along with the personal link to the public manage consent page for each contact.  This will allow you to send these bulk emails via dedicated mail / newsletter services such as Mailchimp.