For more complex documents and letters, it is possible to create the template in the system by using a Word document.
Under the Documents or Letters & Emails section, click "Add Word Template":

In the Word document on your computer, you will need to insert any dynamic tags or placeholders for data to be swapped in when you generate the document or letter. The list of tags available is on the template page - click "Copy" to copy the tag to the clipboard, and then paste that into your Word document:

Once you have inserted all of the tags and have saved your Word document, you will need to upload it into the system. To do this, click "Upload Word Template" and select your Word document from its location on your computer: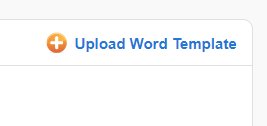 The template is now ready to start using. If you need to update the template, simply click the "Replace Word Template" button:

Generating a document/letter from a Word template
This works in the same way as the standard templates, except that you cannot edit the content before generating the document or letter. However, having generated it, you can download the generated Word document, edit the content on your computer, and then re-upload it to create a new version of the document/letter:
To download the generated document/letter, click "Word Version" - either at the top of the page to get the latest version, or against any individual version in the versions list:

Make any changes required to your local copy offline. When you are finished making changes, save your edited document and click "Upload New Word Version" to upload it back into the system. This will create a new version - both in Word and PDF format.