Various finance functions are available under:
Tenant Receipts Import
This is a central screen for recording tenant receipts across all lettings (instead of having to navigate to each letting in turn to enter the receipt). This screen is especially useful if you are working through your bank statement on a daily basis, recording receipts of rent across all properties.
To record a receipt:
Search for the active tenant in question by tenant name, property address, letting reference or tenant rent payment reference. Press "Search" to find matching tenants.

Click "Add Receipt" to record the receipt from this tenant.
Enter the amount received from the tenant, together with any other details of the payment (for example, which client bank account it has been paid into). Click "Add".
Review the allocation of this receipt. By default, the system will use it to pay off the oldest unpaid items (demands) for this tenant, but the allocation can be manually changed if required. Click "Confirm" to save down this receipt.
Bank Accounts
Record any branch bank accounts under the "Bank Accounts" side-menu. Each account is either classified as a "Client Cash Account" (for receipts from/payments to clients) or an "Office Cash Account" for the agency's own cash.
An opening balance can be set on each account, for a given date.
Note: the system does not integrate with your bank accounts to initiate any payments, rather these are provided to allow you to record bank details against any cash transaction made within the system, to aid the reconciliation of your system with your bank accounts.
Bank Reconciliation
This screen allows you to reconcile any cash transactions recorded in the system with those in your bank account. Cash transactions can be filtered by a number of parameters, including bank account, date range, transaction type.
To mark a transaction as reconciled, click the grey tick against the transaction – a green tick indicates that the transaction has been reconciled. Additional notes can be added against the transaction by clicking the grey note icon beside the tick.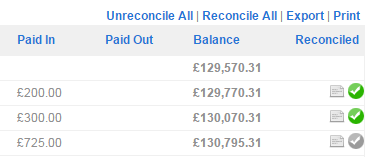 Recording Misc Transactions
Ad-hoc payments into or out of any bank account in the system can be recorded by clicking on the "Record Misc Payment" button at the top of the account's reconciliation screen.  Transfers between your accounts can also be recorded via this form.
BACS Payments
This page allows you to create a bulk payments file for all of your outgoing payments on a certain day (for example, payments due to landlords, payment of supplier invoices, fee draw-downs etc).  You can then use the file generated at your bank to make the payments in batch (e.g. via BACS), rather than one at a time.
If you do not see a file format supported by your bank, then please let us know and we will look to get that added.  In the meantime, our "Generic" format could be used as a basis for conversion into other formats.
Points to note:
By default, only payees with bank details recorded in the system will be included in the file
Only settled payments will be included in the file (e.g. only payments for landlord statements marked as settled)
Please let us know if you intend to lodge deposits (e.g. at the DPS) via the payments file, so that we can set the protection scheme bank details in the system.