The system contains a task management feature, allowing you to log and track tasks that either you or other members of staff need to follow-up on (e.g. callbacks).
Tasks can be logged against lettings, properties or contacts (vendors, buyers, landlords or tenants) by clicking on the "Tasks" side-menu against each, or from any page in the system by clicking on the "My Tasks" link at the top of the page, and clicking the "Add" icon.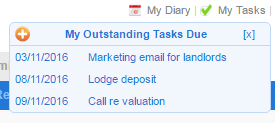 By default, any task created will be owned by the member of staff creating the task, but if the task is for another member of staff (for example, a callback message), simply change the task owner to that staff member.  The system will then send an email out, informing them of the task assigned to them:

If a user has been assigned a task by another member of staff, and has not seen that task yet, it will also be highlighted with a blue "un-seen" dot.
View your tasks
Your own outstanding tasks due today can be seen in the following places:
On the "My Tasks" link at the top of every page
On the Dashboard page, in the "My Outstanding Tasks Due" widget
On the "Home" -> "My Tasks" page, which lists all of your tasks, including future-dated tasks (where they can also be filtered and printed)
Outstanding Tasks Due alert
The "Outstanding Tasks Due" alert lists all outstanding tasks, across all users, that are due on or before today.