Both landlords and tenants can be charged ad-hoc fees through the system, via the "Landlord Fees" and "Tenant Fees" side-menu links against a letting.
The system will only apply VAT to fees if a VAT number has been supplied for the agency (this can be set under "Admin - > Company" section).
If a landlord is to be charged a fee relating to a property, and there is no active letting at the property, record the fee using the "Landlord Fees" side-menu link against the property.
If the fees are to repeat on a regular basis, tick the "Is Recurring" tick box when adding the fee, and enter details of how frequently the fee will repeat, and for how long: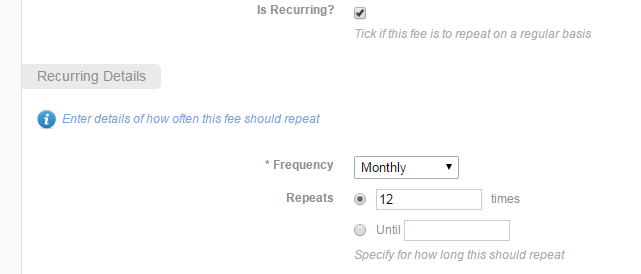 Issuing an invoice for a fee
Click through to the fee in question and click the "Invoice" button in the top right-hand corner.  In the pop-up, click "Save" to generate and save down the invoice.  Once the invoice has been created, click "Print" to view a printable PDF of the invoice, or click "Email" to send the PDF out to the landlord/tenant as an email attachment.