The diary resides under the "Home" menu item. There are two views of the diary:
My Diary – this is your diary, containing any viewings, valuations, appointments, inspections etc that you are attending. It is possible to filter these by type, and also to display any diary items that you have created but are not attending. You can also store notes in your diary.
Branch Diary – this displays all diary entries for your home branch, and can be filtered by diary item type and member of staff.
Printing the diary
You can print off the diary for a given day - just make sure you are on the Day view for that day, and click the Print icon in the top-left: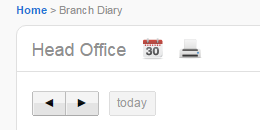 Syncing the diary with Outlook
Click on the calendar icon in the top-left (next to the printer icon in the screenshot above) - this should then prompt you to open the diary in Outlook. Confirm as required.
Syncing the diary with an iPhone
For an iPhone it is a very similar process. You just need to log onto the system on the phone itself (same url and same username and password as normal) and again click on the calendar feed icon on the diary. This should add it to the iPhone calendar.
Syncing the diary with an Android phone or Google calendar
For an Android phone, you first need to the get the unique url for the calendar and add that to your Google calendar online. This will then sync with your phone in the same way as your normal Google calendar. Instructions below:
Get the unique URL for your calendar by right clicking on the calendar feed icon and selecting copy link address
Log into your Google calendar online on your computer
Click the down-arrow next to Other calendars
Select Add by URL from the menu
Paste the calendar URL from step 1
Click the Add Calendar button. The calendar will appear in the Other Calendars section of the calendar list to the left.
Google may take a few moments to import your calendar if it contains a large number of appointments. Once they have finished processing the events should then appear in your phone and online Google calendar.