Inspections are managed against a letting, and can be created manually or by the system as part of a standard inspection schedule.
Manually creating an inspection
From the letting in question, click onto the "Inspection" link in the side-menu.  Click "Add" to bring up the new inspection form - put in the date for the inspection, it's status (default is "Pending" for new inspections), and who is going to be doing the inspection - either a member of staff, or a 3rd-party (supplier). 
Inspection schedule
If the "Auto-Generate Inspection Schedule" flag is checked on the letting details form when adding a letting, they system will automatically create a series of inspections at the property, based on the default settings (the default is an inspection every three months). If you require the default inspection schedule to be changed, please contact 10ninety Support. 
Inspections alert
The "Inspections Due" alert flags up any inspections that are due in the next month, or occurred in the last 6 months but haven't been marked off as Done yet.   
Adding inspection to diary
Inspections do not automatically appear in the diary - they need to be scheduled in at a convenient time.  To add an inspection to the diary:
From the "Inspections Due" alert: click on the diary icon and enter the required time
From the inspection itself: click the "Add to Diary" link
In either approach, the "Branch Dairy" link on the pop-up opens up the diary for the inspection date. 
Recording a summary of the inspection
In some cases, a very simple summary of the inspection is all that is required.  To record this, edit the inspection in question and record the summary in the "Inspection Summary" text box.
You can then print the summary or email it out: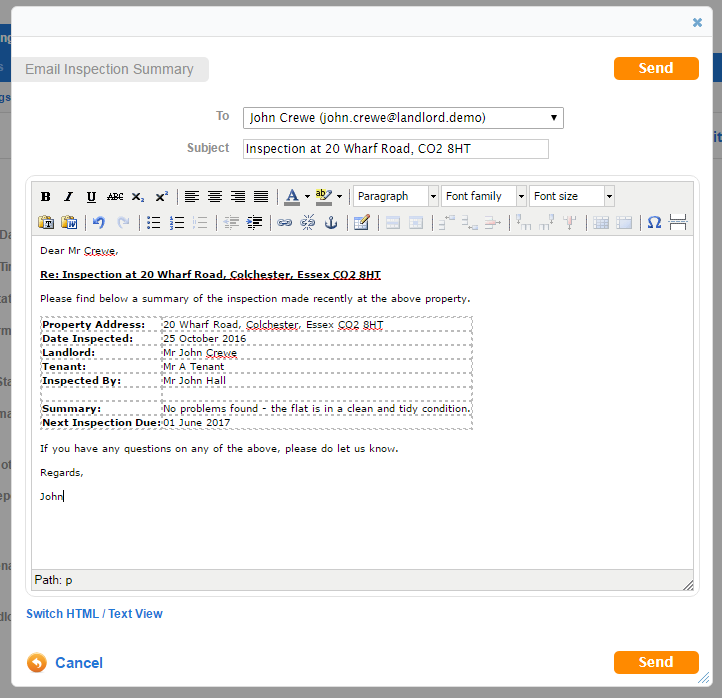 Creating inventory inspection reports
For more detailed inspections (either interim or checkout inspections), you might want to review the latest condition of the inventory and detail that in the inspection report.  To do this:
An inspection report can be started from the following locations in the system:
From the inventory: click "Add Inspection Report" and enter details of when the inspection was made (or select an existing inspection entry in the system)
From an inspection entry: from the inspection details page, click "Add" next to "Inventory Report" and indicate
Indicate if the inspection is the checkout inspection – if so, it will also be available in the Checkout Report.
Click "Edit" against any inventory item to update its condition as of the inspection. Add any comments as required.
Click "Add Photo" to upload a new photo of the inspected item.
Click "Print" or "Email" to print or email out a copy of the inspection report.