The tenant account for a letting can be viewed by clicking the "Tenant Account" side-menu link against the letting. The account page shows all items due from the tenant(s) in the letting, listed in order of due date. Each item shows:
"Amount Due": the original amount to be paid by the tenant for this billable item
"Received": the amount that has been received from the tenant to date for this item
"Outstanding": the amount that is still outstanding on this item (it will show in red if overdue)
"Balance Due": the running total of all outstanding amounts
The "Balance Due" as of today is also shown on the letting dashboard – this shows how much is still outstanding from the tenant(s) on all items in their account due on or before today. If they have anything overdue, the dashboard balance will be highlighted in red.
Tenant Statements
To provide a tenant with a statement of their account, click onto the Tenant Account page for the letting in question, and click on the "Tenant Statement" link in the top left hand corner of the account table: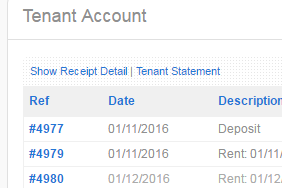 Select the date range required (it defaults from the start of the tenancy to today), then click "Print" to produce a printable PDF of the statement, or "Email" to send out the PDF as an attachment.