Here are some tips and shortcuts which will help you navigate and use the system:
Quick Search
The quickest way to find contacts, properties or lettings on the system is using the Quick Search in the top right corner of the system.  If you start typing into this field then the system will automatically start searching and display matches in a dropdown below the search field. Click on the relevant match to then navigate to it.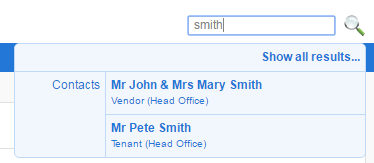 A maximum of 5 results are returned per category (contacts, properties and lettings) in this dropdown so if you don't see the match you are looking for then hit Return or click on the magnifying glass icon and you will be taken to a page with all of the search results. You can switch between category using the links on the right.
My Activity
A very useful way of navigating between things that you have been looking at is using the My Activity widget at the very top of the system. Click on the link and a dropdown is displayed with the last 5 contacts, properties and lettings that you have been looking at.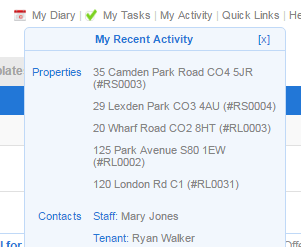 My Diary Today
A quick way to see your appointments for they day, from any page in the system, is via the  link at the top of the page:

My Tasks
To see your tasks due today, or any still outstanding, click on the My Tasks link at the top of any page: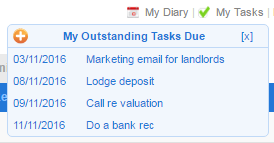 Quick Links
When viewing most things on the system, keep an eye out for the Quick Links menu at the bottom of the menus on the right side of the page. This will contain links to actions related to what you are currently looking at. For example, when viewing a letting property this menu contains links to copy the property, copy as a sales property, add a note, add a viewing and more.
The Quick Links widget at the top of every page provides a quick way of getting to your property or contact lists.
Help
You can access the Help Centre by clicking the Help link at the top of every page.
Working in multiple browser tabs
When working on multiple things at the same time feel free to open different pages in separate browser tabs. This will save you time navigating from one page to the next.