You can add digital signatures to any letter or document generated as a pdf through your 10ninety system that requires a signature.
To do this the template in question needs to be updated to include special 'eSignature' tags that signify that the document can be sent for eSigning.  The tags themselves are then replaced with a signature box to be filled in digitally via Signable.
The tags are added in the same way as the rest of our document tags via the Templates section of the system.
For example, if you wanted to add them to the Agency Agreement template, you just need to edit the template under Templates > Documents > Residential Sales Property > Agency Agreement; click edit and you are presented with a rich text editor that lets you update the template.  in the top right of this is a special 'Tags' button that lets you select from a variety of tags to drop into the template: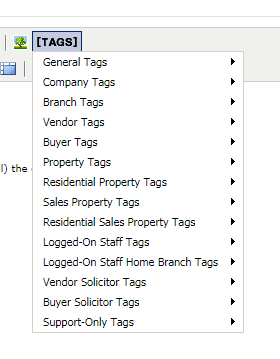 In this case the template has been updated to use the Vendor Tags > eSignature field and the Logged on Staff Tags > eSignature field in place of the normal signature box: